I started by flying into Sacramento, renting a car and making the 1.5 hour journey up to Chico, CA for +Sierra Nevada Brewing Co. Beer Camp #118. I met up with a fellow camper and we didn't lose any time making our way to the brewery for our very first pints. The brewery isn't exceptional on the outside and even the inside of the pub looks a little dated, but that's to be expected since they're one of the first craft breweries in the country. I got a Best Bitter to start and followed that quickly with Draught Style Pale Ale and Knightro. The other campers started trickling in and before we knew it, the whole group was there. We ranged in age from 25ish to 40ish and had a lot of different backgrounds from science related to stay at home dads.
The original artwork for their flagship Pale Ale
Sierra Nevada has something they call the Big Room which is essentially a music hall and luckily they had a show that very night. We streamed to the venue, got plates of a delicious buffet, pitchers of anything we could drink and listened to an interesting gypsy rock group. Since the other group of video submission campers started a day early, this was our main day that we would overlap so they took us out to downtown Chico that night. More pitchers and some in-bar tricycle racing later, the night was over.

The following morning was a little rough, but we were up early and at the brewery. We met Steve Grossman who gave us a little slideshow about the history of the brewery and we watched everyone's video entries.
Original brew kettle
Following that, we met with the pilot brewer and formulated our recipe (with some Celebration pints of course).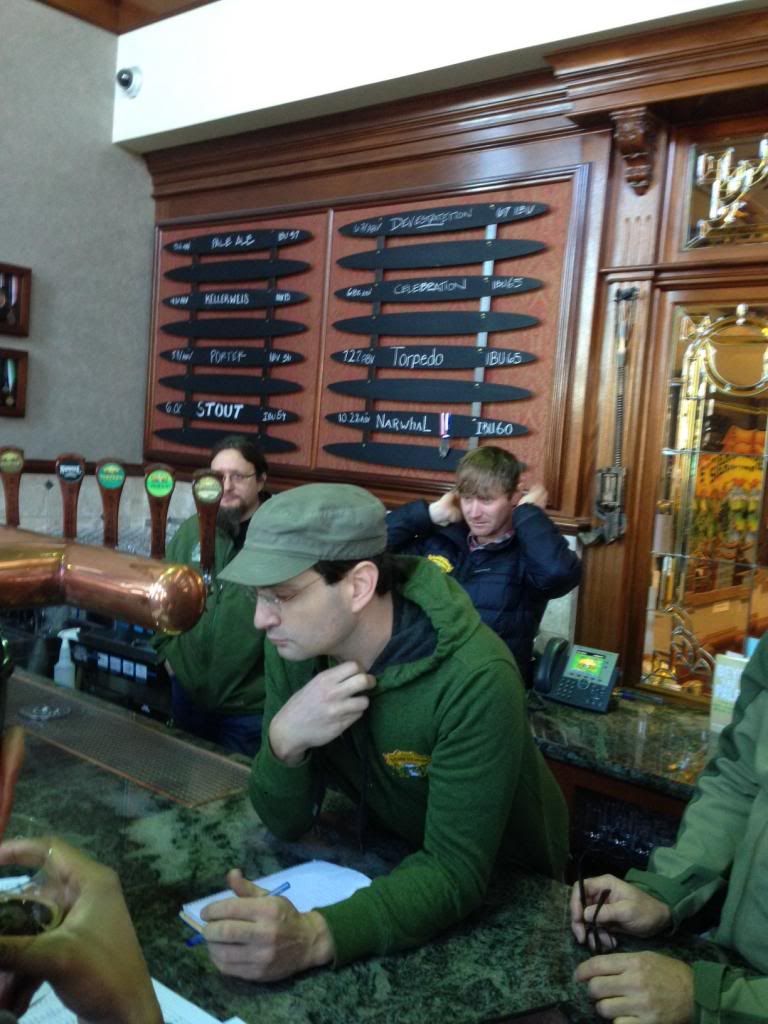 Recipe formulation
After learning we couldn't use a saison yeast, we settled on an IPA aged on cedar. The final recipe was 8%, light! dry and had simcoe, el dorado, Amarillo, citra and summit hops and would be dry hopped with a new wild hop called Neo Mexicanus.

With the recipe settled, we were off for a brewery tour. It's hard to put into perspective how big the brewery is, but when you're standing looking up at the massive cylindrical bottom of a 800 barrel fermenter, it hits you.
The bottom of an 800 BBL fermenter. One of 49 at the brewery!
Then they tell you they have 49 of those and your mind kind of explodes. We saw their small bottling line, hop freezer (a couple thousand square foot room filled floor to ceiling with bales of hops. Sierra Nevada prides itself on using only whole leaf hops and they have a MASSIVE amount of them in this freezer).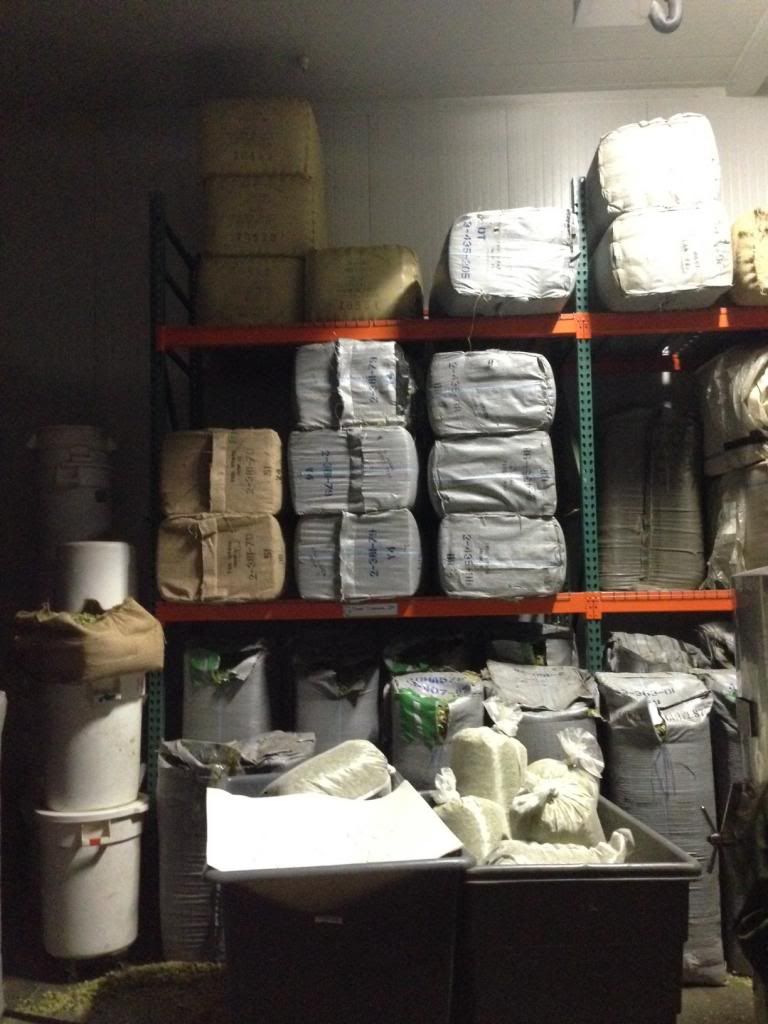 Bales filled with whole leaf hops. This is the best smelling room I've ever been in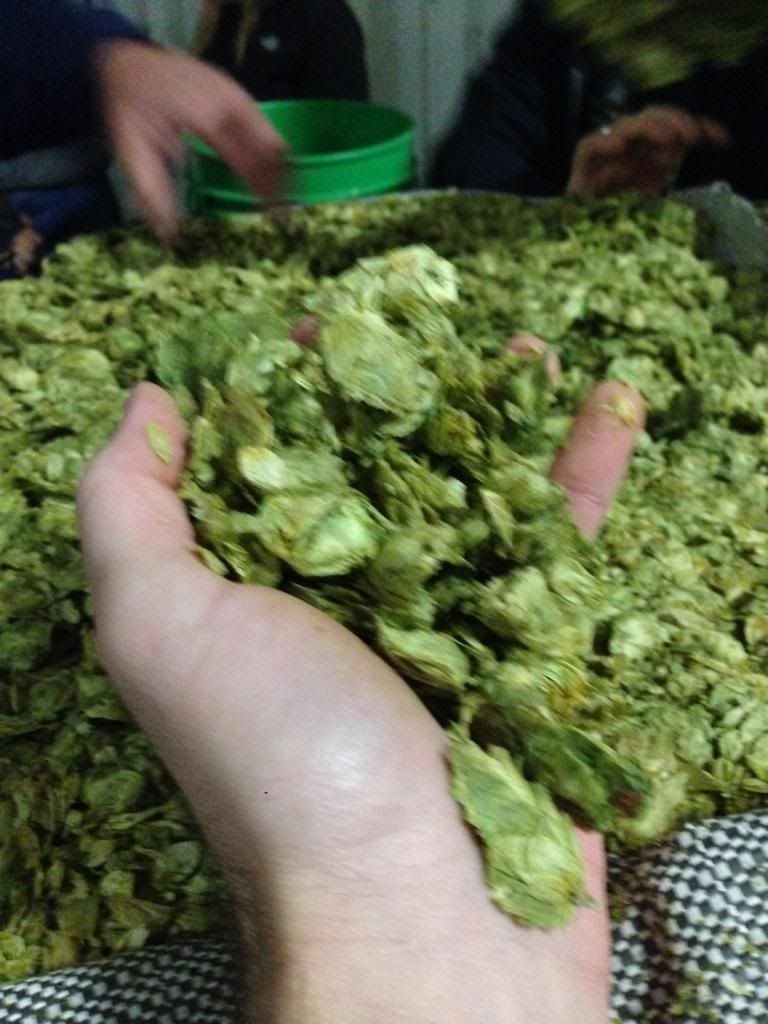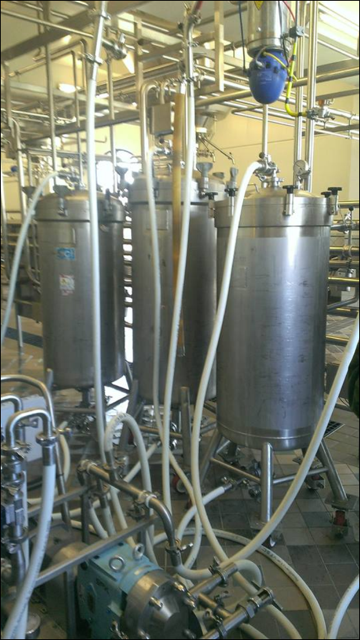 Torpedoes. Sierra Nevada's version of a hop back.
We got to try Torpedo straight out of the tanks and it was as hoppy as you can imagine.

Following the tour we had lunch in the pub and then were off to the Abbey of New Clairvaux. This is the abbey that SN has paired up with to make their Ovila series. In doing so they are raising money for the abbey to build a new chapel for the monks there.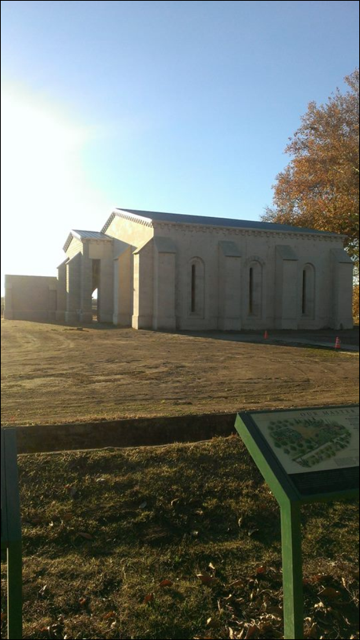 We got a history of the abbey, a tour and then a wine tasting from the small winery that is there.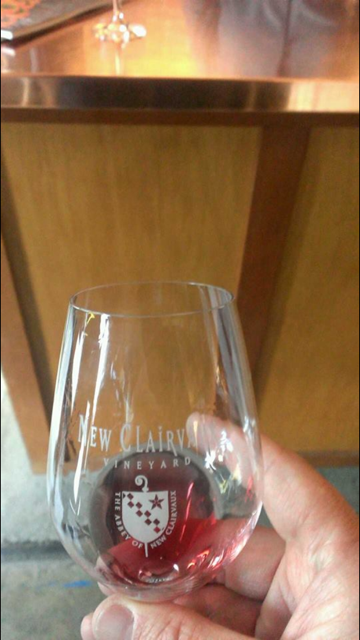 Wine tasting at the Abbey
Oh, we of course had cases of SN Pale Ale and Old Chico on the way to and from the abbey. Once we got back we had some more beers in the pub, had dinner with the other beer camp and then got to bed way too late.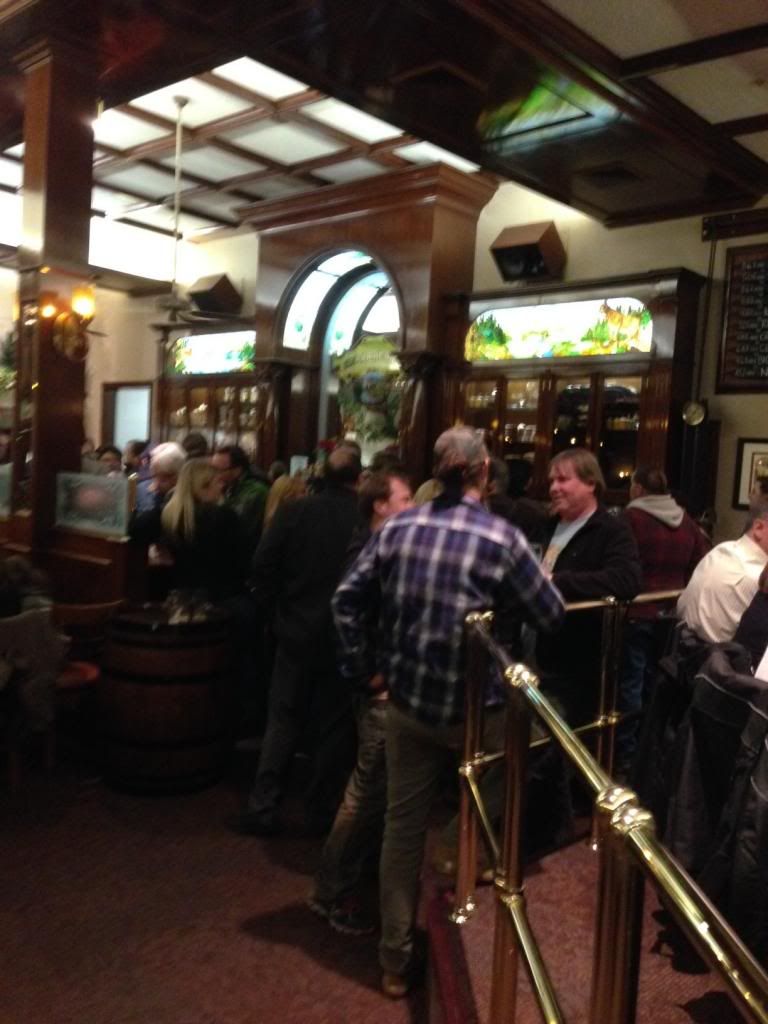 The restaurant and bar
The second full day of beer camp started with breakfast burritos and coffee in the pilot brewery while we learned about their system. They then put us to work milling the grain for our batch, hunting down and weighing the hops, then we were up to the pilot brewery to actually brew.
Pilot system. "Only" 10 BBL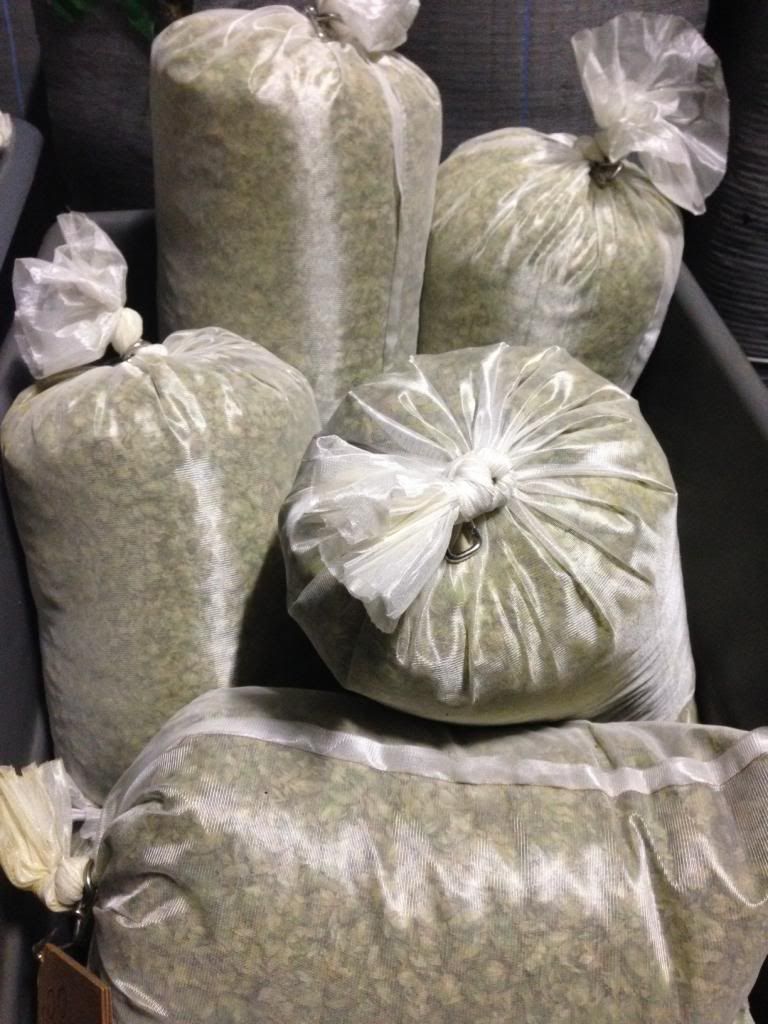 More hops!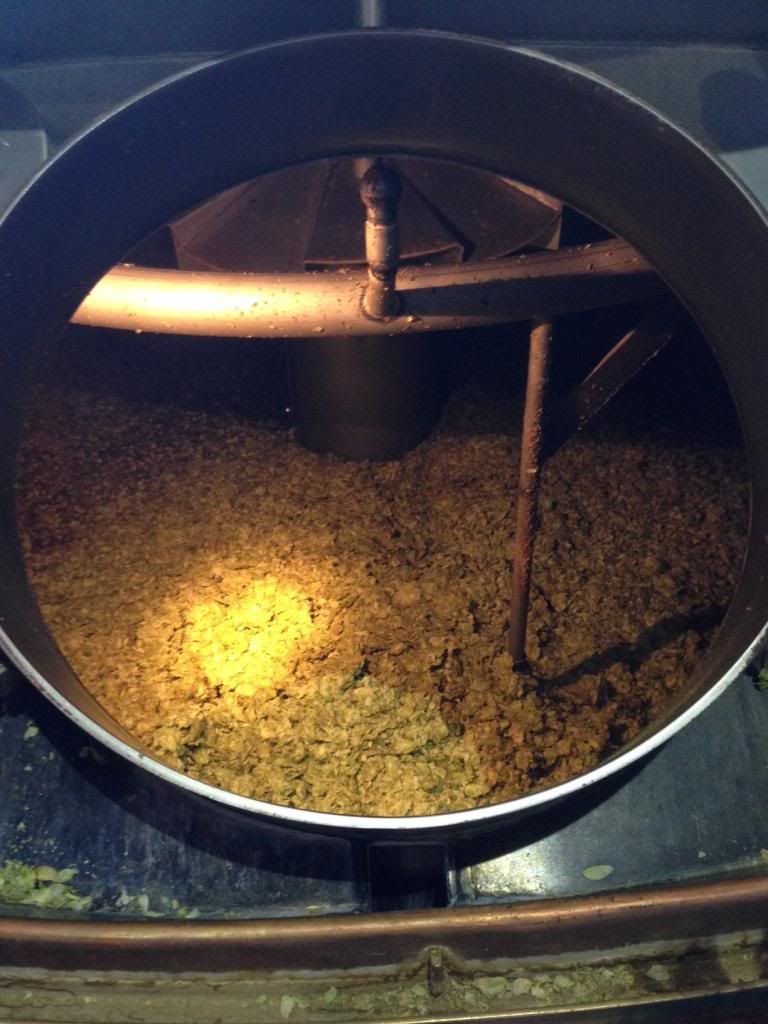 Adding hops to our brew
Their system is so automated that we really didn't have much to do other than dumping grains and dumping a few hops in, but I can still day I've brewed on a 10bbl system before. After that we were down to the pub for lunch and beers.
Checking the clarity after brewing


The second half of our day started out with a bang. The head pilot brewer led us on a tour of his fermenters which involved samples of everything they had. This included some other beer camps (weizen bock, brown ale, ESB), beers from their upcoming mixed IPA pack and some beers from their Beer Camp Across America mixed 12 pack. Those were very exciting because they happened to have Cigar City's beer (massively fruity pale ale, think fruit cocktail) and 3 Floyd's in the fermenters.

Following this we hopped on their one of a kind beer bike where we sipped SNPA while we biked around the rest of their brewery.
This involved stops at their wastewater treatment facility and composter. SN is extremely Eco friendly and almost every building they own is covered in solar panels. We got to go on the ground of their bottling line. It was absolutely amazing to see thousands of 2014 Bigfoots whiz zing by. They do something like 200,000 bottles a day out of that facility. The scope of it is hard to describe until you see it up close.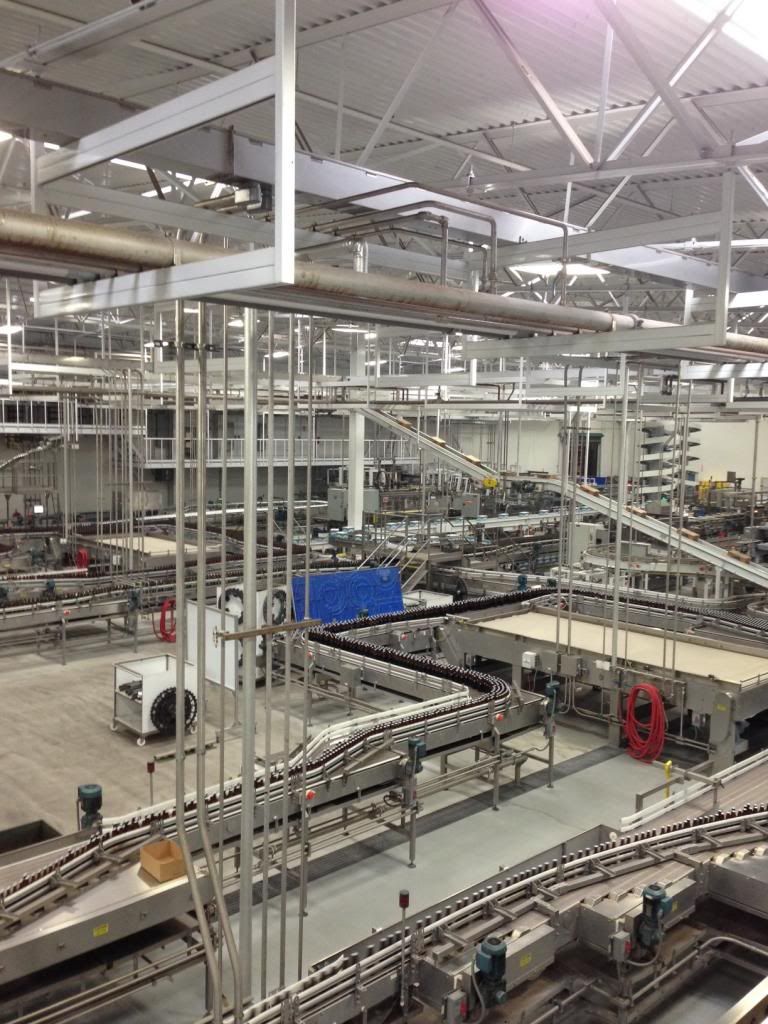 Only a portion of their bottling facility
Spent hops from a torpedo.
We finished our tour with a stop by their R&D and QA labs. We got to do a blind triangle text of their beers with some off flavors. I of course failed miserably, my palate needs serious work, but most of the guys picked out a light struck beer out of the lineup. Their R&D lab is essentially a flavor matching and off flavor deciphering lab. They have put a ton of money into making sure their beers all taste the same and have probably the most extensive lab in craft beer. Other breweries send samples to them to get texted. They are extremely busy now making sure their Asheville is going to put out the exact product as this one.

That was the end of our tour and we topped off our Beer Camp experience by opening a 2011 9L Bigfoot. A massive bottle and delicious beer was the perfect way to end the trip.
I can't say enough about SN after this trip and I'm now a lifelong fan and will spread the love to everyone I meet. They are a big brewery but haven't forgotten their roots and do the right things to their fans which I will be forever after this experience.
Be on the lookout for Beer Camp #118's IPA coming (hopefully) to a bar near you!